Introduction
Edit
So many Heroes to choose from! That's right, with Lost Saga's unique Hero system, Z8Games(NA) and previous publishers have over time released new heroes into the mix with unique skills and abilities to master. Different Heroes can be split into different categories depending on the nature of their abilities such as ranged attacks, melee attacks, special attacks, etc.
There are also numerous 'Premium' heroes made up of characters from mangas/animes in Lost Saga. These heroes can only be bought with real money or won from chests unlike other hero types.
Hero Categories
Edit

Melee Attack Heroes
Edit
Ranged Attack Heroes
Edit
Magic Attack Heroes
Edit
Special Attack Heroes
Edit
Premium Heroes
Edit
Borrowing Equipment
Edit
"What? That's my helmet!"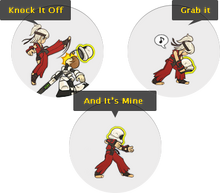 When you or your enemies lose their HP or take a heavy blow, they will drop one of their equipment pieces for any player to pick up by walking over and pressing the 'A' key. By picking up an enemy's equipment piece, you will gain all the upgrades and benefits that come with that equipment.
Before picking up your enemy's equipment to taunt them with, remember that by picking up whatever equipment piece they dropped, you'll be replacing your own equipment for theirs and will lose any upgrades and benefits that you had on your equipment.